Technical Library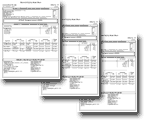 Welcome to Freeman's technical library, featuring a collection of resources for the making of jewelry wax models, art bronze sculptures, and more. In addition to reading through the information below, feel free to Contact Us with your technical issues.
Technical Q & A
Every month, our newsletter features real-world technical questions and answers taken from our email & phone tech-lines. As a subscriber, you'll also have access to our newsletter archives for past Q & A. Sign up now!
SDS (Safety Data Sheets)
SDS are available on the relevant product page.
Guides & How-Tos
Useful References
Conversion Tables